GHOUL RUNNINGS 2022 CREW
Below are some pics and short bios of the people you may meet if you join us for a RIVER or RESERVOIR adventure this season. We are proud of this CREW who have helped us establish and build this NEW Kayak Rental business for Sandusky County. They all take their positions very seriously and help us maintain our fleet of 76 watercraft this year.
BETH TURNER – AKA: "The Boss Lady"
Beth Turner is the official owner of GHOUL RUNNINGS KAYAK ADVENTURE, LLC… it was all her idea and she has been the driving force behind everything since the idea popped into her head back in 2018 when they took the Ballville Dam out. It has been truly a LABOR of LOVE for her and husband Bob to bring this abandoned A-Frame Sandusky River Trip building and grounds back to life and set up the Yak Shack Rental business at the Fremont Reservoir. Beth has always loved canoeing over the years but is relatively new to kayaking. She bought her first kayak as a wedding anniversary gift to herself and husband… and soon after bought one for him so they could both go out together. Her motto… once you YAK… you never go BACK!!!! Beth and Bob Turner have owned and operated the HAUNTED HYDRO for 33 years this seaon!
---
BOB TURNER - AKA: "Crazy" Bob
Manager, ACA Certified Instructor/Guide and husband of the actual owner which makes him a full-time SLAVE to the business... LOL!
Bob has been around water sports all his life, grew up in Knoxville, TN and was a junior water ski champion on the Tennessee River. He swam on the University of Tennessee swim team. Bob was also an Eagle Scout who took numerous Canoe trips over his time with the Scouts. He and his wife Beth later owned and operated Thornwood Golf Course and the F.O.R.T. recreational facility which had a large swimming pond on the property. He was a certified Lifeguard for 15 years while they ran that business. Bob has always enjoyed whitewater rafting and was a regular on the New River and Youghiogheny River during the summers. He got his first Kayak as a Father's Day Gift about 4 years ago and there has been no turning back. He loves the YAK life and is thrilled to help others enjoy this amazing and super popular pastime.
---
MARLIN WHITE - AKA: "The Hippie Daredevil"
ACA Certified Instructor/Guide
Marlin was the first person who we interviewed for a position last year and has not only become a great friend but proved himself invaluable when it comes to his kayak skills, paddling knowledge and expertise. He knows the Sandusky River like the back of his hand, has paddled it hundreds of times during all water conditions. He is also an avid Sail Kayaker and has sail-kayaked from Pt. Clinton to Canada and also on the Ocean from one Island in the Keys to many others in Florida. He is a quiet-spoken paddling machine with a wealth of history, nature and familiarity of the Sandusky County area.
---
JASON KIDDEY - AKA: "The Skipper"
ACA Certified Instructor/Guide
Jason is a Detective for the City of Fremont by day… but a paddling perfectionist after-hours. His favorite boat is his 13 ft. Red Dagger and you cannot miss him when he is on the water with this! He also served in the US Coastguard where he first learned his water safety skills. Jason is a true born leader who loves to teach others the proper techniques of paddling and safety education while on the water. He is always prepared to take charge of any rescue or emergency situation and is a welcome addition to our Crew.
---
JACKSON KIDDEY – AKA: "Gilligan"
1st Year Crew Member
This is Jackson's first official job. He helped out on a few of our events last year with his Dad, Jason and decided he really enjoyed the Kayak Life and interviewed to come on board this season as an official crew member. We look forward to watching him learn and grow through all of his on and off water experiences this year.
---
TANNER WATSON – AKA: "Tan the MAN"
Guide Apprentice/1st Year Crew Member/Driver
We have known Tanner for over 6 years now. He is also a member of our Haunted Hydro Cast and Crew. Tanner has a heart of gold, a passion for adventure and is a serious safety advocate as well. He volunteers on the search and rescue squad is first-aid and CPR certified and ready and able to help in any emergency situation.
---
DUANE HUFFMAN – AKA: "Do-Wayne"
Maintenance/Driver
Duane is our go-to man when it comes to mowing, maintenance, building, projects and more around the A-Frame. He is also our number one Shuttle Transportation driver. Duane is a long time veteran actor/zone leader and more at our Haunted Hydro sister company. Duane has a fear of water and is working to overcome that phobia this year by taking some trainings offered by our guides and his goal for the year is to take a River Trip before the season is over.
---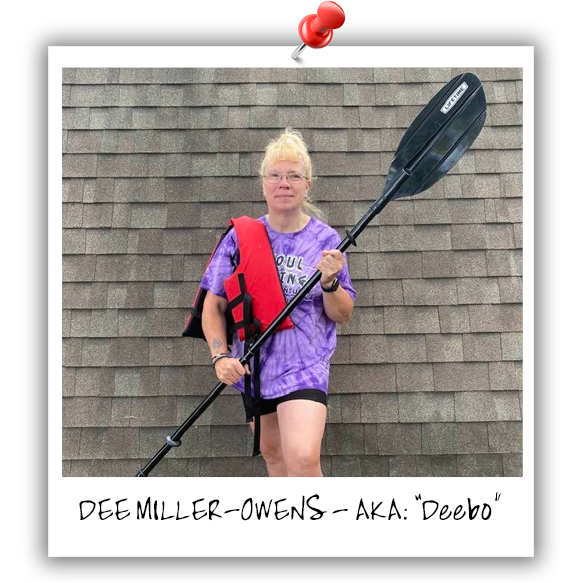 DEE MILLER-OWENS – AKA: "Deebo"
Dee has been a long-time good friend of the Turners and a GHOUL at the HAUNTED HYDRO for 18 years now. Dee was in a serious automobile accident in 2014 and she was told she may never walk again. She has several rods in her spine but she defied all the doctors and not only walks, runs, rides her motorcycle… but as of last year… she learned to Kayak and joined our crew towards the end of the season and even helped Guide many trips as well! Dee is one REMARKABLE woman whom we are proud and honored to have as part of our CREW this year!!!!
---
REBBA PARSLEY – AKA: "Our Kayak Princess"
Rebba is also a GHOUL gone kayak WILD… she is the girlfriend of our Haunted Hydro Park Manager Casey… and well… Beth kind of TWISTED her arm to help LAST season… and she did such an amazing job we asked her to come back… she had NEVER Kayaked before last year… and was thrown into not only kayaking, rescuing, driving the shuttle and took many WACKY WEDNESDAY and FULL MOON NIGHT PADDLE adventures with the Crew last year… she got a REAL JOB over the winter and we only have her 1 or 2 days a weekend this year… but we will take what we can get… she is AWESOME!!!!!
---
ERIN KERLIN – AKA: "The New Girl"
Erin also comes to us with GHOUL-ish experience as a Haunt Actor for the past 3 years at the HAUNTED HYDRO. She interviewed with us and told us she LOVES the outdoors and water and has always wanted to learn to Kayak. We told her that was a PERK to her job with us and that we encourage ALL our crew to learn to kayak so they can help others better understand it. Erin has never let her medical challenges stop her from LIVING and that was good enough for us to offer her a position with us for the season! We look forward to seeing what "The New Girl" accomplishes this year…
---
BRANDON LADUE – AKA: "Wild-Man"
Brandon is also a MONSTER at the HAUNTED HYDRO during season. He filled out his application in the dead of winter this year and kept contacting us to interview him each month. I knew he really wanted the job. He is a certified Lifeguard and enjoys helping people learn new things. He is a dare-devil with a good heart. His girlfriend is deaf and he is learning sign language too and hoping to teach her to kayak as well this year. Brandon is an apprentice guide and all-around helper for us this season.
---
MARIE TAYLOR - "The Accountant"
Marie is our Haunted Hydro Ticket Booth Manager, Payroll Expert, Accountant and friend of ours for over 18 years now. She said we were CRAZY to open up this new business... but as an ACCOUNTANT also saw the value in it all! She loves the whole VIBE of our operations and helps out with customer service, trips and outings when and where she can. We have YET to get her in a kayak though... she is not a big swimmer and a bit water shy... but we are hoping we can persuade her to try kayaking this summer!
MORE CREW MEMBER INFO to come…