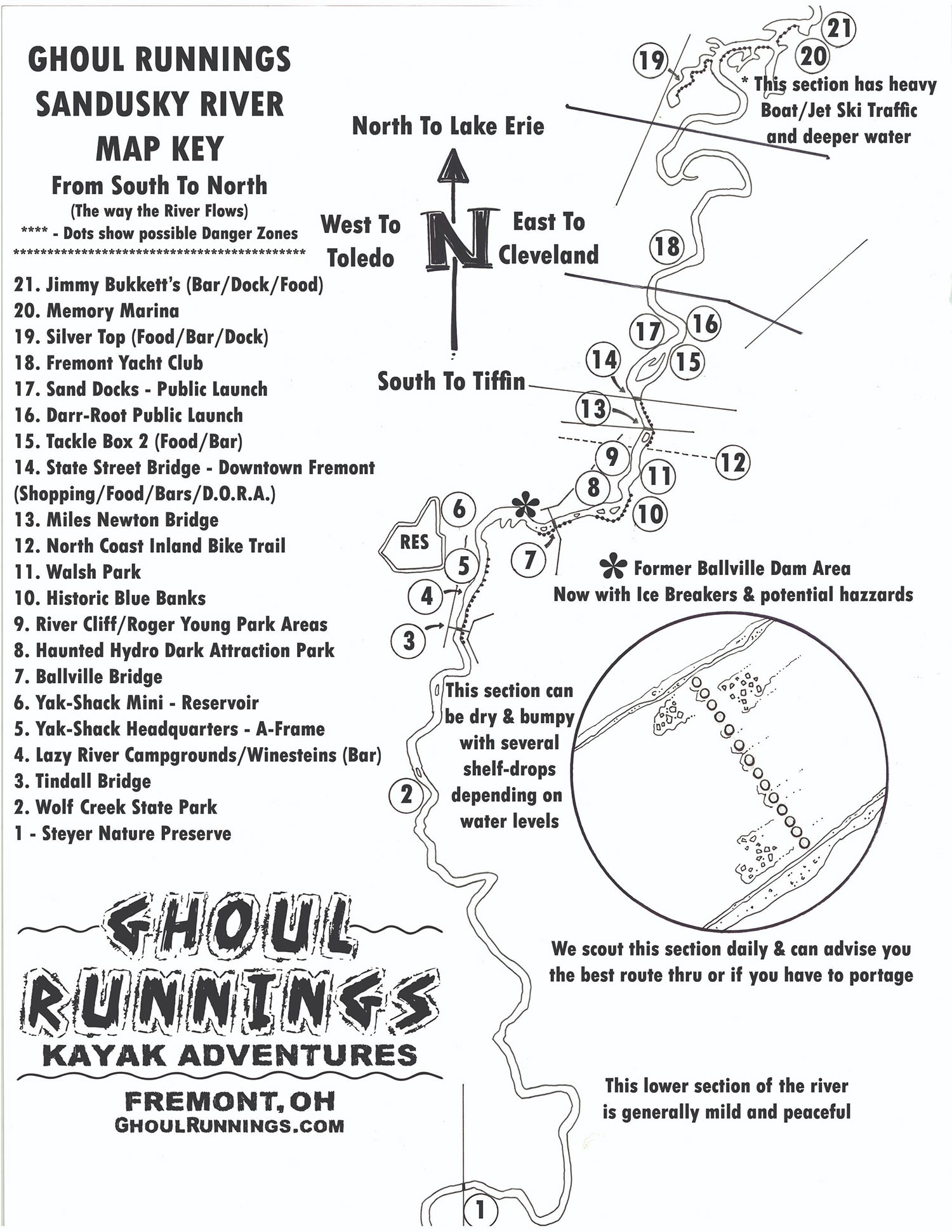 "River-Art" credit: Michael "PJ" Foos
FAQ's… or Frequently Asked Questions… See below…
How do I find you?
Ghoul Runnings Kayak Adventures has 2 rental locations that are right across the road from each other.
1. Our "YAK-SHACK" rental location at the top of the Fremont Reservoir is where we rent out all hourly reservoir rentals and will rent out River Trips as well until our renovations are complete for the A-Frame location below.

2. Our "A-FRAME" rental location is at the bottom of the Reservoir is directly across the road 1773 S. River Rd., Fremont, OH 43420 (Previously known as Portage Trail Park) and that is where all river trips will rent from and also be used for overflow parking for the Fremont Reservoir.
What are your days/times of operation?
We are open 11am – 7pm Friday and Sunday Saturday 11am – 7pm for hourly rentals and then at 8pm we start our SATURDAY NIGHT SUNSET ON THE RES event and those rentals last until 9:30pm We have other special events we offer each month as well… such as Sunset to Dusk Paddles, Dusk to Dark Full Moon Paddles, Sunrise and Coffee Friday morning events, etc…
What type of watercraft do you rent?
Currently… we have single kayaks both "sit-in" and sit-on-top" styles and several fishing kayaks too. We also have "1" Tandem or double person kayak but we do have 16 aluminum canoes that hold 2 adults and up to 2 children and/or adults based upon weight limits.
What do I wear?
Old shoes, water shoes, sandals, flip flops.
Swim suites, shorts, t-shirts/tanks/clothes that dry quickly… dry fit things are perfect.
What to bring?
Dry bags- if you don't have one we have them for sale $8 plus tax. You can bring your own drinks - we also sell water for $1. Sunscreen- we have ordered single use packets to sell. Bug spray… especially if you are doing a later trip or event.
What is provided with your rentals?
Life jackets, kayak or canoe, paddles and transportation as needed for trips to launch and pick up at various locations.
Is it cash only?
NO, we accept cash and all debit/credit cards.
For large groups we will accept checks
What are the trip hours and how long is it?
At the Reservoir we rent by the hour… you can rent for more than an hour or if you are interested in daily rentals… we have limited amount of watercraft we can rent out for the day.
On the Sandusky River… we have several trip options ranging from 2 – 4 hours based upon RIVER LEVELS and weather conditions… it is best to check out and join our facebook business page @ Ghoul Runnings Kayak Adventures or message us in advance for what we will be offering for the weekend you are looking at joining us.
What are the prices for the trips?
They will start at $30 plus tax each person which includes life jackets, paddles, kayak, or canoes based upon the length of the trips.
Do you shuttle for the tour if I have my own kayak or canoe?
Yes if we have room, rentals come first. $10 to $20 based upon length of trip, or if it's a special event. There is a waiver to fill out. Bonus discount could be given if you bring others with you who rent from us.
Do you rent your life jackets and paddles?
Depends on availability. If available it would be $5 plus tax per item (A deposit or Drivers license may be required to hold until you return them based upon the situation).
Do you have tandem kayaks… or Kayaks that hold 2 people?
Yes! We have 1 and you can make a reservation for it. We also have 16 canoes that seat 2 plus 1 or 2 more depending on size and weight.
How do I contact you?
You can message us on Facebook off our Ghoul Runnings Kayak Adventure Business Page, send us an email at GhoulRunnings2021@gmail.com or stop by at the Yak Shack. We should have a phone line in soon so you can call and that number is 419-455-4272
What if I have a large group? Will you open during the week?
If we have a large group… YES we will definitely entertain opening for you during the week.
Do I need to come early for my reservation?
We recommend about 15-30 mins before reservation time, there are waivers to fill out, life jacket fitting, quick lesson on paddling if you need it, etc… and we are working on a video to show everyone soon as well.
ANY OTHER QUESTIONS… EMAIL, PM or CALL US….