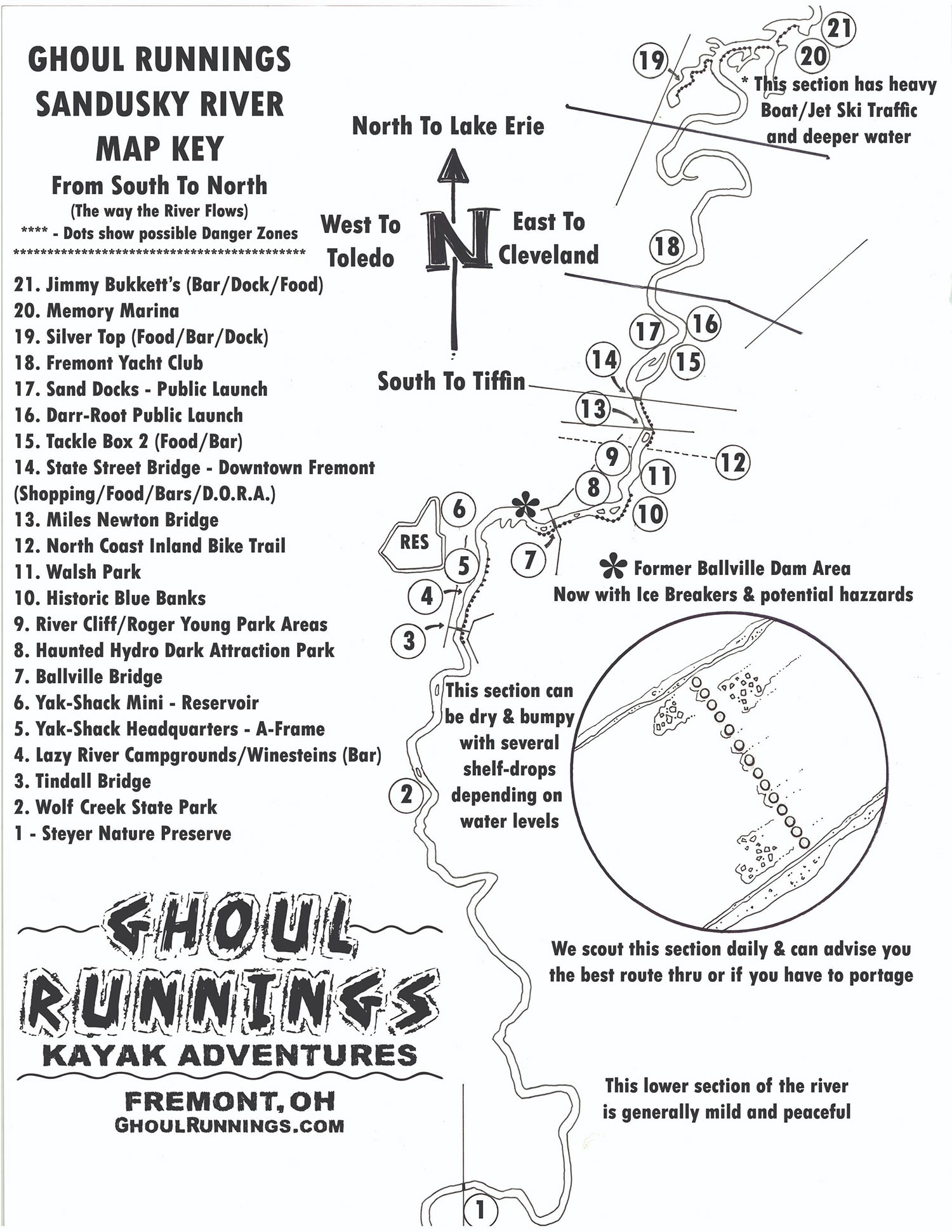 "River-Art" credit: Michael "PJ" Foos
FAQ's… or Frequently Asked Questions… See below…
Ghoul Runnings Kayak Adventures has 2 rental locations that are right across the road from each other.
1. Our "YAK-SHACK" rental location at the top of the Fremont Reservoir is where we rent out all hourly reservoir rentals and where we launch or POPULAR Friday and Saturday night Sunset Paddles.
2. Our "A-FRAME" rental location is at the bottom of the Reservoir and is directly across the road 1773 S. River Rd., Fremont, OH 43420 (Previously known as Portage Trail Park) and that is where all river trips will rent from and also be used for overflow parking for the Fremont Reservoir.
What are your days/times of operation?
FRIDAY - 2pm – Sunset
SATURDAY - 11am – Sunset
SUNDAYS & HOLIDAY MONDAYS – 11am – 7pm (With our last hourly reservoir rental launching at 6pm)
We open officially Memorial Day Weekend and our last day this year is September 18 - Sunday
What type of watercraft do you rent?
We have 76 watercraft in our fleet. We offer single kayaks that are Sit-In, Sit-On-Top, Fishing, XL and Tandem styles. We also have 17 NEW and EXCITING Kokopelli brand Adventure Rafts that are really fun. (We have discontinued use of our Canoes this year as we found that last year the canoes and our River were not a good match… we purchased 6 tandem kayaks we can rent out instead).
WEIGHT LIMITS on our regular single kayaks are up to 299 lbs, over 300 lbs we suggest you rent an XL boat. Our Tandems will hold up to 550 lbs., Kokopelli's up to 325 lbs.
What do I wear?
Old shoes, water shoes, sandals, flip flops, towel, swim suit, shorts, t-shirt, tanks, clothes that dry quickly… those dry fit items are perfect... honestly… just dress for the weather…!
What to bring?
Dry bags- if you don't have one we have them for sale $8 plus tax. You can bring your own drinks - we also sell water for $1 and propel and Crystal light flavor packets too. Sunscreen- we have ordered single use packets to sell. Bug spray… especially if you are doing a later trip or event.
What is provided with your rentals?
Life Jackets, Kayak or Adventure Raft, Paddles, Helmut (For certain trips) and transportation as needed for trips to launch and pick up at various locations.
Is it cash only?
NO, we do accept cash and all debit/credit cards. For large groups we will accept checks with proper ID.
What are the River Trip Times, Reservoir Rental info and important things we should know?
At the Reservoir we rent by the hour…no reservations required, you can rent for more than an hour or if you are interested in daily rentals… we have a limited amount of watercraft we can rent out for the day.
On the Sandusky River… we have several trip options ranging from 2 – 4 hours based upon River Levels, Weather Conditions and Skill Levels of the Paddlers. Trips will vary each day depending on these things.
We have designated departure times for ALL TRIPS that can be found by clicking the TRIPS/TOURS/EVENT tab on this website. ALL River Trips need to be reserved a minimum of 2-HOURS in advance.
What are the prices for the trips?
They start at $35 plus tax/fees per person which includes life jackets, paddles, kayak, transportation based upon the length of the trips.
Do you shuttle for a River Trip if I have my own kayak or canoe?
YES, we call this the BYO option… or Bring Your Own boat. We offer this on MOST of our trips/events. There is a FEE and we ask that you reserve this online in advance as well. So we are prepared when you arrive that we have to load up your boat as well. In some cases it is just easier to leave your boats at home and rent one of ours. Many liveries in Ohio do not even offer this service any longer as it got to be more work than it was worth for them.
Do you rent your life jackets and paddles?
Depends on availability. If available it would be $5 plus tax per item (A deposit or Drivers license may be required to hold until you return them based upon the situation).
Do you have tandem kayaks... or Kayaks that hold 2 people?
Yes! We have 6 currently and you can make a reservation for them. Tandem Kayaks will hold up to 550 lbs of weight. We recommend 2 people… but a 3rd youth or child is also an option to add.
How do I contact you?
You can message us on Facebook off our Ghoul Runnings Kayak Adventure Business Page, send us an email at GhoulRunnings2021@gmail.com or stop by at the Yak Shack or A-Frame during business hours. The best number to call us at is: 419-455-4364
What if I have a large group? Will you open during the week?
If you have a group of 10 or more… YES we will definitely entertain opening for you during the week. Click the Trip/Tours/Event tab on this website and click the GROUPS image and fill out our form to request this or email us.
Do I need to come early for my reservation?
We recommend about 30 mins before reservation time, there are waivers to fill out (Save time and fill it out ONLINE), life jacket fitting, quick lesson on paddling if you need it, etc… and a Safety Video to watch.
ANY OTHER QUESTIONS... EMAIL, PM or CALL US.